Von Riesig Kennel LLC
Is your family safe?
Do you travel and worry about leaving your family without security? Do you travel alone?
Do you have a firearm?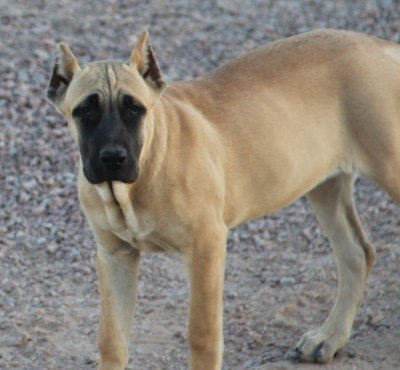 (All Deposits are Non-Refundable but are transferrable within our kennel.)
Holiday Dog Training Discount!
(1 Complementary Hands-On Training Workshop with the purchase of your puppy!)
The reality of today's society is that it can be an ill intentioned and unsafe place, avoid becoming a victim with a trained protection dog!


We are a family owned and operated training and breeding kennel in Arizona. We specialize in producing and training service dogs, protection dogs and dual purpose dogs for family, sport, handicapped or serious work.

A protection dog is your first line of defense. A trained protection dog becomes a loving and loyal member of your family, that's willing to protect his/her people with their own life, without hesitation.

Do you carry a firearm? A firearm is a great tool to protect your person/family but a protection dog can react to and protect you from a threat before you see it coming and before you have time to reach your firearm or call for help. A protection dog can protect you when you cannot protect yourself.

Women especially, in today's world are most vulnerable when traveling alone, a protection dog will keep you protected 100% of the time. Your protection dog can travel in the car with you and accompany you wherever you go. It is statistically proven that criminals are most intimidated by trained security canines, no other form of defense will deter a potential threat better than a protection dog.

The sounding alarm of a barking protection dog immediately alerts the homeowners, a loaded gun could never do that. You and your family will sleep much more comfortably at night knowing that your Von Riesig bodyguard is always on duty, 24/7.

Our kennel works with common and rare breeds of dog (and only the best bloodlines and best dogs we can find, whether we find it locally or in Europe or South America, ...) to create and mold the finest family & working dogs which also behold beauty and elegance that turn heads. To behold such an exotic dog certainly sparks inquisitive people to ask "What kind of dog is that!?"

Our training programs vary in price and these programs can be added on to the purchase of a puppy from our kennel. We also have select dogs that have already been started or are finished in our training programs; we have a basic package for those who just want a well behaved family pet all the way up to a more extensive package which is suited for those who are in need of a body guard for real world situations. When considering the hundreds of hours that go into a fully trained protection dog, a price truly cannot be put on a dog that could actually save your life or the life of one of your loved ones.

We provide a 2 year Hip & Genetics Warranty for dogs younger than 2 years of age. Occasionally we have low cost puppies or adults available. All of our puppies/adults come with a 14 day warranty against parvo.
We now offer Financing! 
So you're thinking about buying a puppy or dog and you're wondering if you can afford one. We're here to help you out. We understand that a puppy and training are a big out of pocket expense. That's why we offer financing from LendingUSA. It's super easy to fill out an application online, it only takes a few minutes and you'll hear back immediately. Please note, the approval comes from LendingUSA, not Von Riesig Kennel. Please also note that the interest rate is determined by your credit score and if you pay off within 6 months, you can avoid interest.
Checking your rate won't harm your credit score†
You won't be penalized for exploring your options, so there's no reason to delay. That's because now is always the best time to finance life's important moments.
If you qualify, Great!, just give us a call or send us a text/email to take the next step and you're well on your way to taking home your next best friend and protector. If you don't qualify with LendingUSA, don't worry, we have other payment plan options as well.

If you're having issues applying online, give us a call, text or email and we can walk you through the financing process.
;
We also do some independent rescue and occasionally may have a rescue dog looking for a forever home. Some of these dogs are suitable for service work too!

Stud service is also available from our males, we use the best bloodlines we can find and our males are often imported from other countries, the stud fees are priced accordingly.

While we are more active in training dogs for services, we also do occasionally show our dogs in the conformation ring and compete in CCDL and PSA canine sports.

Our breeding program currently consists of the following breeds:
Rottweiler, 
Doberman Pinscher, 
Belgian Malinois, 
Dutch Shepherd, 
German Shepherd,
American Bulldog,
French Bulldog

American Bandogge Mastiff 
(Bandogge Bloodine: Neapolitan Mastiff, Tosa Inu (Japanese Mastiff), Cane Corso (Italian Mastiff), Presa Canario (Canary Mastiff), South African Boerboel (South African Mastiff), Boxer, American Pit Bull Terrier, American Bully, American Staffordshire Terrier, English Mastiff, Shar-Pei, American Bulldog) 
Panja Mastiff, Canis Panther & Hybrids. 

520-840-4345
Check out The "For Sale" Page for available puppies and adults.
We offer flexible Payment Plans & can take Credit Cards
All Deposits are Non-Refundable.
(Prices subject to change without notice. Your deposit guarantees price at time of deposit. Puppies come with a 2yr Hip/Health Warranty & Parvo Warranty.)
Note: If you're placing a reservation on a Waiting List, we cannot guarantee a time-frame, we can only guarantee your spot on the waiting list. Your spot moves up as orders are fulfilled. Once again, all deposits are non-refundable but never expire and are transferrable within our Kennel.