In this bad economy crime is on the rise, we offer peace of mind with security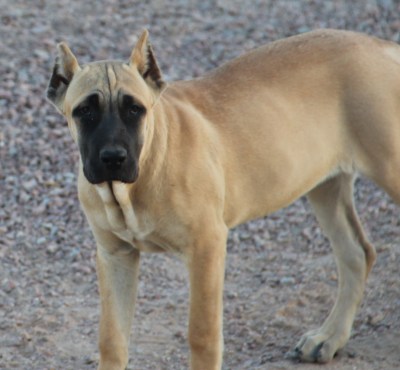 We are a family owned and operated training and breeding kennel in Arizona. We specialize in producing and training service dogs, protection dogs and duel purpose dogs for family, sport, handicapped or serious work. Our kennel works with the best common and rare breeds of dog (and only the best bloodlines and best dogs we can find, whether we find it locally or in Europe or South America, ...) to create and mold the finest family & working dogs which also behold beauty and elegance that turn heads. To behold such an exotic dog certainly sparks inquisitive people to ask "What kind of dog is that!?"
Our training programs vary in price; we have a basic package for those who just want a well behaved family pet all the way up to a more extensive package which is suited for those who are in need of a body guard. We provide a 2 year Hip & Genetics Warranty for dogs younger than 2 years of age. Occasionally we have low cost puppies or adults available. All of our puppies/adults come with a 14 day warranty against parvo.
We also do independent rescue and occasionally may have a rescue dog looking for a forever home. Some of these dogs are suitable for service work too!
Stud service is also available from our males, we use the best bloodlines we can find and our males are often imported from other countries, the stud fees are priced accordingly.
While we are more active in training dogs for services, we also do occasionally show our dogs in the conformation ring and compete in CCDL and PSA c anine sports.
Our breeding program consists of the following breeds: Rottweiler, Doberman Pinscher, Belgian Malinois, Dutch Shepherd, German Shepherd, Tosa Inu (Japanese Mastiff), Cane Corso (Italian Mastiff), Presa Canario (Canary Mastiff), South African Boerboel (South African Mastiff), Boxer, Akita, American Pit Bull Terrier, American Bully, American Staffordshire Terrier, English Mastiff, Olde English Bulldoggies, Blue Tick Coonhound, & Hybrids.